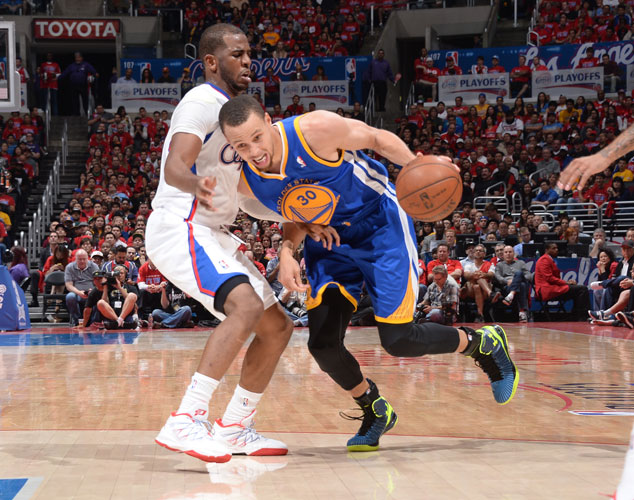 I wanted to share something with you that we've recently discovered. I feel like I've been lied to for the past 15 years.
Playing low is a MYTH.
"Live Low!"
"Be low. Be shot ready!"
We've all heard them and preached them a million times. But, it's time to actually look at what works instead of just following the pack.
Players who are great at driving the basketball don't sit down like they are in a chair. Actually, they are off balance. In this picture above, Steph Curry looks much more like a running back than someone doing stationary ball handling.
Yes, playing "low" is a MYTH.

So what do we teach?

Three things

1) Chest to the Floor — we want players to bend at the hips, not necessarily their knees. Their eyes are still up.

2) Lean In — put your inside shoulder towards the defender

3) Hit First — as the dribbler you have to be the one to initiate the contact.
Doing these 3 gives you the advantage because you have momentum and leverage.
Want to learn the exact drills we use to teach this skill to thousands of players across the country?
We'll show you them our Basketball Coaches Academy in Chicago, Ma 19.  If you want to transform your program this is one event you can't miss.  Visit 1.thrive3.co/coaches-academy for all the information on the event.
P.S. We still have a couple camp dates open for the summer if you're interested in bringing this experience to your school anywhere in the country So far we have events setup in Tulsa, Boston, Denver and across the Midwest. Drop me an email at mike.lee@trainthrive3.com for more information.