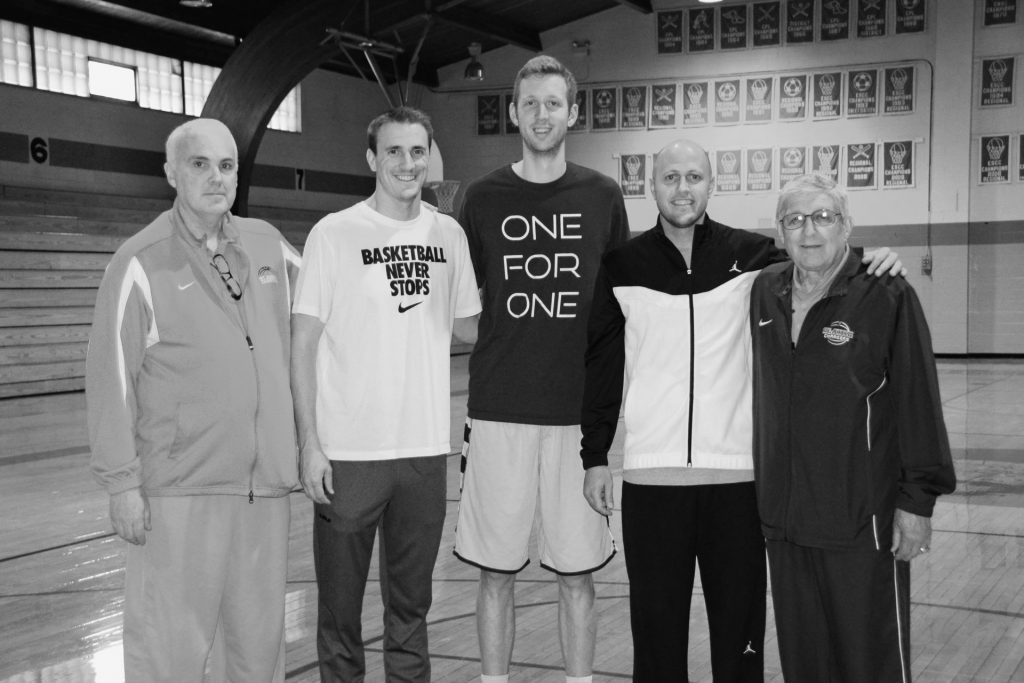 If there is anything we've learned about how to be a successful coach it's that you can never stop learning.
I think it was John Wooden who said "It's what you learn after you know it all that counts".
About 5 years ago I spent some time with one of my mentors, Forrest Larson, current Head Boy's Coach at Badger High School in Lake Geneva, WI. I have been fortunate to see several big time coaches speak or run practice like Rick Pitino, Coach K, Billy Donovan, Bo Ryan and Jim Boeheim, to name a few. Until I met Ganon Baker, there was no one better than Coach Larson, who is regarded by many basketball authorities as the premier skill development coach in Midwest, if not the country. His passion and attention to detail are second to none. I worked his Take It To The Rim camps for 5 summers and learned more than I would have ever imagined.
We were in the gym and talking for over 4 hours. He shared times he spent watching individuals with Rick Pitino, Billy Donovan, Tim Grgurich, and Mike Dunlap and I found out where he had learned so much that he taught me about the game. The longer we were in the gym I found out I was doing more of the talking. I was reminded that one of the reasons I looked up to him so much was his passion to learn and always get better. The guy has probably forgot more basketball than I know and here is, asking someone almost 30 years younger than him about the game. I was humbled and filled with confidence at the same time.
When we ran our first Coaches Academy in Milwaukee back in August of 2010, I was shocked when a name came across my email. Gene Pingatore, wait, what? No way! Is that the Coach from Hoop Dreams? I double checked about 10 times because I could not believe someone who had coached in the McDonald's All-American game, won that many games and had coached that many great players was bringing his staff to our event. That showed me learning truly never stops.
Jerry Petitgoue, who I will be forever indebted to for his support, has been coaching high school basketball for over 50 years and won close to 900 games. Yet he is still trying to learn, become more efficient and impact his players lives. How do I know? Just a couple years ago he joined Twitter!
Tom Desotell, head boys basketball coach at North High School, in Sheboygan, WI has been coaching for 38 years and has over 600 wins is the epitome of having a "Beginner's Mind". A concept that refers to having an attitude of openness, eagerness, and lack of preconceptions when studying a subject, even when studying at an advanced level, just as a beginner in that subject would. He demonstrates this by the questions he asks, the notes he takes and work ethic he displays. I'm not sure how he does this, but he stays ridiculously humble. I can't tell you how many times we've caught him trying to sweep the floor when coming down to watch workouts in Milwaukee or helping us pick up chairs after our Coaches Academy.
So maybe you had a great year. Maybe, you are even fresh off a state title. But what's next year going to bring? New challenges to face and players to develop. New strategies to develop and new sets to steal. But, the one thing I can guarantee you that will always be at the foundation of your success, is the fundamental skill level of your players.
When you look at teams who win state championships in high school, and national championships in college, they have players who go on to play at the next level. Because when the offense breaks down, and it eventually will, you need guys who can make plays.
Every offense looks great on paper, but when it really comes down to it your success will depend on the execution of the offense. No matter which system you run, if you players can't pivot and pass with contact, finish in traffic, separate from pressure and shoot the basketball, the offense will not produce results.
And the good news is, we've done a lot of the work for you. We've spent 10 years meticulously researching and testing ideas. We've packed the best stuff into our Coaches Academy in Chicago to give you the tools to help your team reach their potential.
Save $25 by Registering Before April 15.
P.S. Do you run the Run and Jump Press? My college coach, Eddie Andrist, is now offering a Run and Jump Camp for your high school program. He is one of the best teachers of the game I've ever been around and can show you how to effectively and efficiently implement this defensive system. Learn more here.