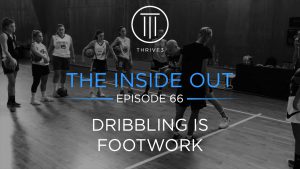 In THIS EPISODE OF THE INSIDE OUT
Owning The Driving Line
The 3 Dribbles to Drive
Inside Out Clockwork
POINT GUARD BLUEPRINT ACADEMY
Always calm — with laser like focus — develop the ability to see all possibilities on the court.
WHAT YOU'LL LEARN
• NBA Ball Screens Reads Applicable to High School
• Increase Basketball IQ and Decision Making
• Weak Hand Development to Make on time, on target passes
• 4 Types of Floaters to Finish in Traffic
• Mental Training and Leadership Skills through Mindfulness
• Create Space to Beat Pressure and Play Under Control
• 5 Steph Curry Skills You Can Implement Now
Limited Enrollment. Register Today.
1.thrive3.co/point-guard-blueprint-academy