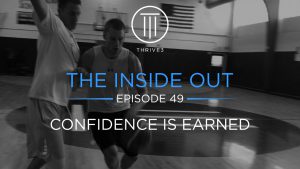 In THIS EPISODE OF THE INSIDE OUT
Be Willing to Accept Full Responsibility for Failure
The Work to Earn the Right for the Opportunity
Letting Go of the Outcome
2 Types of Pain
How to Choose Your Summer Camps
With the season ending for many players it is time to start planning your summer schedule, if you have not done so already.  Because your summers are filled with AAU and high school leagues and tournaments it's crucial that you efficiently maximize your time and choose a camp that will fit your needs. In my opinion kids are playing way too many games, which affects their relationship with the game in a few key ways:  
They get mentally burned out

 

Physically worn down and 

 

The significance of competition is dwindling because the games are less and less meaningful. 

 
With that being said I think it imperative that you choose a camp where you are going to work on and develop your skills, not play games like you can just do going to open gym or the park. Almost every camp says you will work on your skills, but do your research and find out what you will really be doing. 
The first thing you should do is evaluate yourself or have your coach evaluate your game in proportion to your aspirations.  If you want to play college basketball find someone who really knows what it takes to play at that level and have them give you an idea of what you need to do.  From there make sure you find a camp that will fit your needs.  Be wise where you spend your money.  It might be more beneficial to spend $400-$500 for personal training instead of attending an overnight camp with 300 other players there.  Look for substance, not just the name of the camp. 
Do you go through stations in the morning and then just play games the rest of the day?   
How much of what you learn at camp are you really going to be able to apply in your off-season workouts?   
Are you being taught how to workout and practice in proportion to your aspirations? 
Are you going to learn 6 options for the dribbler off the ball screen or are you just going to learn what a ball screen is? 
Are you learning how to run an offense or are you learning how to play the game? 
I have been to camp in the past where you would spend 1 hour each day learning to run the Kansas secondary transition.  It frustrated me because it was doing absolutely nothing to help the kids become better basketball players?  If you are at a camp where they are teaching you to run plays instead of teaching you HOW to play I think you are really missing the boat.  When you are learning how to read defenders to curl, reject, or curl fade off a pindown it doesn't matter if your team runs the flex, swing or some continuity because you are learning how to play the game, not just to run an offense.  The same thing goes with developing your skills.  If you have great skills and understand the game you will be able to fit into any coaches system or philosophy.   
If you are a Point Guard, looking to level up this off-season, and see real results translate to the court, checkout our Point Guard Blueprint Academy in Milwaukee, May 12-13. 
P.S.  
If you're interested in hosting a day camp or team training at your school this summer, drop me an email at mike@mikeleebasketball.com and I'll get you all the info. 
Register at 1.thrive3.co/point-guard-blueprint-academy