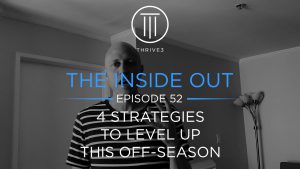 In THIS EPISODE OF THE INSIDE OUT
Building a library of drills
You're the average of the 5 people around you
Your vision matters
One Of The Most Overlooked Tools For Training Your Skills
One of the best things you can do as a Point Guard is study the game through film. It can REALLY give you an edge.  
There is a direct correlation between how intently your watch the game and how easily they learn new skills out on the floor. 
As humans, we are prewired to imitate.  It's why you hear the phrase "Monkey see – Monkey do".  Studies show that the brain can't tell a difference between mental training and physical practice on the floor.  Watching film is a form of visualization and mental training.  
So when you get on out on the floor after watching film, your mind now thinks that they have already been in this situation. Possibly hundreds or thousands of times. That is a huge advantage.
When watching film of model players you need to find someone who matches their size and athletic ability.  Which is why at our Point Guard Blueprint Academy we'll be watching NBA and NCAA DI points 
Here are some things we'll look at in the video analysis. 
How to attack ball screens
How a player changes his speeds
How to read ball screens to pass
Experience this training method at our Point Guard Blueprint Academy, May 12-13, in Milwaukee.
Register at  1.thrive3.co/point-guard-blueprint-academy