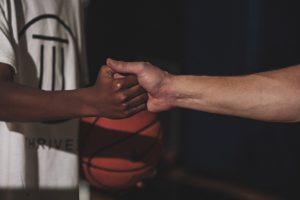 A few years ago I got done working out a player at our gym and the father of the player approaching me, thanking me for all the work that we were doing with their child.
And, being curious, I asked him specifically what he thought we were doing so well…
The answer surprised me because it had absolutely nothing to do with basketball technique.
While we built our business based off of the fact that we could really help players improve their individual skills I learned that what we were really doing was something else.
It was something that was beyond teaching some a great crossover, how to finish in traffic or how to use a ball screen.
He said "you do such a great job of telling the truth, but instilling confidence at the same time"
Now, I believe that deep rooted confidence must be earned through a ridiculous amount of hard work and that a coach can't "give" a player confidence. But, I do believe that confidence, and the inspiration to work, can be ignited through developing a relationship, building trust and then using those two things to tell players the truth.
Without a relationship and trust you can't influence someone's mindset or psychology.
Which is why I'm excited about our Thrive3 Summer Academy in Milwaukee.
It's our longest, most in-depth event that we have ever run. And, what does that give us?
Time.
Time to develop relationships…
Time to develop trust…
And, time to instill confidence.
Enrollment is limited.