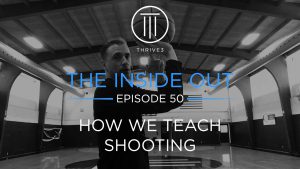 In THIS EPISODE OF THE INSIDE OUT
3 Parts of Your Shot
Common Shooting Mistakes
Becoming a More Consistent Shooter
Yes, You Can Improve Basketball IQ and Decision Making
The point guard position is one of the toughest positions in all sports.  Mainly because of the IQ and Decision making required. But, contrary to popular belief this stuff CAN be taught and learned. 
When Jerry Smith came to us, after an average career at Louisville, he needed to change positions to play the game at the highest level possible. At 6-2 he was an undersized wing at the professional level and to even have a chance to play in the NBA he had to develop into a point guard. Some say almost impossible, given the fact that he was a spot up shooter and defender for 4 years at Louisville.   
 But with a lot of repetition he learned how to do two things that changed his game.
The ability to read the defensive rotations
The skill to make the pass in that situation. Many times with your weak hand.
I think as coaches, many times we don't realize that if a player doesn't have a skill to make a pass, he's not even looking for the read. Why would he if he doesn't have the skill to make it anyways.
Also, many players don't understand the technique that goes into specific game situation passes. Just like you have step backs, drag dribbles, and fadeaways there are all types of passes you need to be able to make depending on the situation like baseline drifts and pocket passes. 
Through cutting edge, game-like drills at our Point Guard Blueprint Academy you'll improve your Basketball IQ and Decision making to make better plays as a Point Guard. Do you want to play the point in college? Making these reads, ones the pros make, will give you an edge. 
Here's What A Parent Has to Say About The Academy 
"I brought my son and daughter to the Point Guard Blueprint Academy here with Thrive3.  It was a fantastic experience.  My kids were able to learn skills that they haven't been taught in the past… different ways to come off ball screens, different types of floaters to use when faced with different defenders. I would highly recommend it to any parent who has a child that plays point guard or wants to play point guard.  It's the place to be." — Matt Lindsey, Mineral Point, WI.
Register at 1.thrive3.co/point-guard-blueprint-academy