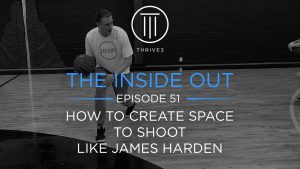 In THIS EPISODE OF THE INSIDE OUT
3 separation scoring moves
Detailed footwork breakdowns
When and how to use each move
Optimize Your Mind For Peak Performance On And Off The Court
Over the past 24 months I've taught over 4,000 middle school through professional players how to optimize their mind for mental performance.    
How do we do this?  
Mindfulness Meditation and Visualization exercises to calm the mind, increase focus on and improve confidence. 
But, a huge mistake people make when practicing visualization (for anything) is they don't get still first and calm their mind. If we go straight into a visualization exercise, our mind is still in reactive mode, to all of our thoughts. When we let our thoughts settle we give the visualization a much better probability to be wired into our neuropathways. 
This is a tool we'll be teaching at our Point Guard Blueprint Academy, May 12-13 in Milwaukee. Limited to only 16 players, be sure to lock in your child's spot today. 
1.thrive3.co/point-guard-blueprint-academy
In the meantime, here are here are 4 simple steps to reset your mind and get your focus back. 
Create Stillness in your body 
If our bodies are moving it's really tough to silence our minds. We are moving constantly from one thing to next, many times reacting to whatever is going on instead of responding in a thoughtful, intentional and kind way. Sometimes I catch myself during the day hurrying up only so that I can hurry up and do something else. Not being truly mindful about what I'm actually doing. 
Silence your mind 
When we create stillness in our body — even if its standing in line for lunch, at the checkout line at the grocery store or waiting in line during a drill — we allow ourselves a greater chance to focus. If our minds aren't silent we can't focus in on the task at hand. 
Simplify your vision 
If we can't focus in at the task at hand we can't sustain focus long enough to create results. 
Amplify Your Focus. 
Once we amplify our focus — and by that I mean get really dialed in on what we are doing for a prolonged period of time — this allows us a chance to get results.  It allows us to stay focused on the process without our minds continually drifting to the end results and attaching judgment to what we think should happen. Doing something once is easy. Doing it consistently over time is ridiculously hard. I always have felt consistency is by far the hardest part of success.  It's easy to work on your game when you feel like it or write a practice plan out once in a while. It's difficult to do it everyday, but that is what creates sustained excellence. And, unless we can train ourselves to stop and silence our minds we can't get focused. We can't get dialed in. 
Learn how to maximize the power of your mind at our Point Guard Blueprint Academy this May. If your son or daughter is looking for an edge, there is nowhere else they should be. 
Register at  1.thrive3.co/point-guard-blueprint-academy